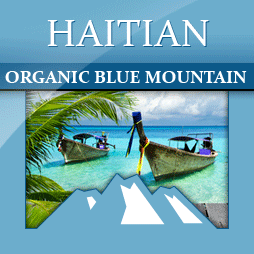 For a limited time, enjoy the half-pound size of this coffee FREE with your $75 order!

To get this coffee free, place $75 or more of coffees in your cart. Then place the half-pound bag of Haiti Blue Mountain in your cart. When you check out, the half-pound coffee will be free!
This exceptional coffee is actually the same varietal that's used for Jamaica Blue Mountain Coffee, and it's even grown in the same kind of soil. When you get to work with such outstanding proven ingredients, you can be sure that this coffee crop will turn out just as exceptional as the Jamaican beans you already love.

This Organic Haiti Blue Mountain Coffee features a mellow body with medium complexity, accompanied by nutty-almond notes and a sweet finish. With a buttery mouthfeel, medium-light roast, and low acidity, you'll savor every sip of this breathtaking brew. Sit back, relax, and let this coffee show you a new side of the tried-and-true Jamaican beans.
This coffee is certified Direct Trade, which pays farmers solely on the quality of their product. Not only does this system encourage farmers to produce top of the line coffee, but it creates a truly sustainable job model in Haiti by paying up to 3x more than Fair Trade.