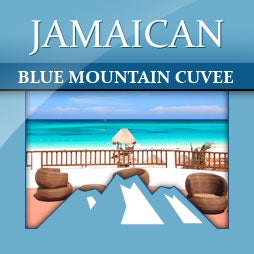 100% Pure Jamaican Blue Mountain Coffee

Although Jamaica Blue Mountain coffee stands on its own as a luxuriously exclusive gourmet coffee, the special Jamaica Blue Mountain Cuvee will truly tantalize your taste buds with the familiar taste of Jamaica Blue Mountain and your other favorite flavors of gourmet Arabica beans. This cuvee is a medium roasted blend that features the smooth, buttery taste of 100% pure Jamaica Blue Mountain, while taking on a new distinction of flavor with a zesty tang and a soft yet balmy finish. If you love well-crafted coffee blends, the Jamaica Blue Mountain Cuvee is one of the finest coffee blends available.
Our Roastmaster didn't strive to change the familiar and beloved taste of the Jamaica Blue Mountain Estate. Instead, the goal was to cultivate a blend that would offer the best sapor possible. By mixing gourmet coffee beans with the chocolaty undertones of Jamaica Blue Mountain, the Jamaica Blue Mountain Cuvee takes on a new blend of gourmet flavors and a mouth-watering body.
Just like the idyllic weather that helps cultivate the seamless Jamaica Blue Mountain Estate coffee, our Roastmaster dedicates time and effort into creating a flawless coffee creation. For those that love variations of their all-time favorite coffee, this Jamaica Blue Mountain Cuvee is the ultimate blend that will leave you to rediscover the magic of Jamaica's famous Blue Mountain.