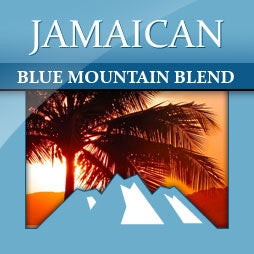 100% Pure Jamaican Blue Mountain Coffee

Our Jamaica Blue Mountain Blend is one of the best blends available for coffee lovers-especially to those who can't get enough of the 100% authentic Jamaica Blue Mountain Estate Coffee. Blended with some of the finest Arabica beans available, this blend features the best of Jamaica Blue Mountain with slight undertones of chocolate. This light-medium roast has the traditional Jamaica Blue Mountain flavor and subtle tang that has put this coffee on the map, all while offering a minimal bitterness and chocolaty finish. The Jamaica Blue Mountain Blend has a delicious flavor without the overpowering aftertaste.
Grown in nutrient-rich soil while absorbing much of the beneficial moisture, Jamaican coffee brews to create an unforgettable taste. Pairing this gourmet coffee with other Arabica coffee from Central and South America enhances the flavors that have been nurtured by the ideal climate of Jamaica. The combination of atmospheres is exactly what any serious coffee connoisseur looks for when a rich taste is desired.
Created with perfection in mind, the Roastmaster specifically aimed to capture the essence of Jamaica Blue Mountain Estate while improving it with nutty, slightly sweet flavors from other full-flavored gourmet beans. Enjoy a light-medium cup of our Jamaican Blue Mountain Blend!