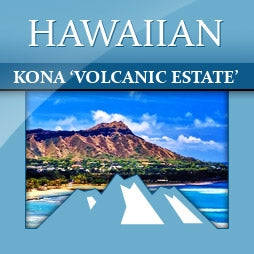 Special pricing on Hawaiian Kona Coffee!

Now you can enjoy the amazing flavor of this unique coffee from Hawaii for less. This offer ends on September 7th. No coupons needed, prices are already reduced.

Offer ends September 7 at midnight.
100% Kona

Welcome to the Aloha State, home to beautiful beaches, elegant volcanoes, and thriving forests. It's an exotic land that is both unfamiliar yet close to home. Hawaii is the only state in the United States that grows coffee, and frankly put, they do it better than almost everyone else. No other Hawaiian coffee characterizes this incredible variety and taste than the Hawaiian Kona 'Volcanic Estate' Coffee.
Hawaiian Kona is a high-grown, classic coffee that brings out the best from the state's unique soil. There's only a tiny section of Hawaii that's able to support coffee plantations, and it's located in the volcanic region of Mauna Loa. Because of the limited space, the Arabica beans are densely grown and meticulously cared for, resulting in high-quality coffee beans. Although the process of developing Hawaiian Kona is costly, the coffee beans that are produced are worth the effort.
Hawaiian Kona 'Volcanic Estate' Coffee is sweet and buttery, and is smoothed out by the slight chocolate and fruit flavors. The flavors coalesce into a well-rounded, deliciously light coffee that is admired by most who try it. Sampling Hawaiian Kona is the cheapest way to enjoy Hawaii without actually being there. Try this coffee today, and see why it's considered one of the most coveted brews available on the planet.