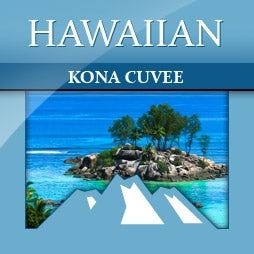 If you've tried our selection of Hawaii Kona Coffee, then you know how wonderful the chocolaty sweet, fruity, and buttery concoction is. It's easily one of the most popular selections available. However, we dare you to try our Hawaii Kona Cuvee, a daring blend of Hawaii Kona and other Central and South American coffees. We think it's even better than the original!
What makes this blend so delectable? Our professional Roastmaster has managed to create something uniquely delicious without losing the flavors from the component parts. You can taste the delicious body and aroma that Hawaii Kona provides. However, you'll also have the added complexity of a caramel and nutty flavor; this adds more depth and pizzazz to the flavors that hit your palate. It smells as amazing as it tastes, and you can't help but love the smooth finish that leaves you craving more.
Because of the limited amount of space available to grow coffee in Hawaii, you can be certain that you'll be enjoying a gourmet coffee that is high in quality and perfect in taste. Beans are often handpicked, so you won't worry about having a bad batch of the coffee beans. No matter your coffee tastes, you're going to go head over heels for this delicious Hawaii Kona Cuvee. It truly is a step above the rest!