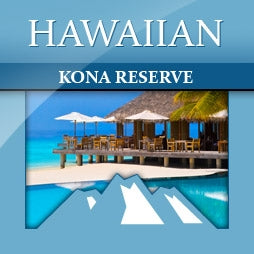 Medium roasted, this distinctive blend perfectly combines Kona coffee with high-grown Arabica coffees to deliver a well balanced flavorful coffee. Medium in body, balanced acidity, nice aroma, hints of nuts and chocolate, and with a bright fruity finish, this masterpiece is sure to satisfy the palate.
Grown at high elevations in the volcanic rich soils of Mauna Loa, Kona Coffee is one of the most sought after coffees in the world. We searched premium coffees from around the world to find the perfect compliments for our Kona when creating this blend. Coffees from Latin America and Africa help to enhance the flavors of the Kona as this blend is rich in Kona coffee.
Order today and enjoy a rich, savory cup of the perfect Hawaiian coffee!