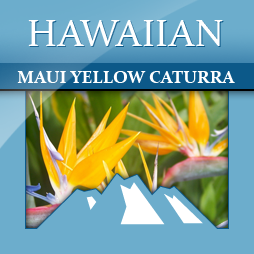 The first thing that stands out about Hawaiian Maui Yellow Caturra is that the ripe coffee cherries are actually a bright yellow color, instead of the usual red. Of course, color is not all that these beans have to offer! Their flavor is distinctive and unparalleled.
Grown on the Hawaiian island of Maui, this bold Hawaiian coffee ripens quickly in the rich volcanic soil. If you're looking for an adventurous brew, you'll love the notes of cinnamon, nutmeg, and licorice. Each sip is like a tropical getaway to your own private island.
Order today and indulge in this Hawaiian coffee gem.