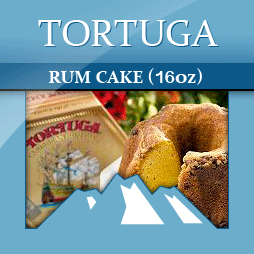 If you love the sweet infusion of rum, walnuts, cinnamon, and a little spice – look no further than the 16 oz. Tortuga Rum Cake! Made in the Cayman Islands, these exceptionally popular coffee cakes rank as the most common export on the island themselves. Baked from scratch and packaged daily, the Tortuga Rum Cake features one of the most exclusive rums in the entire world – the Tortuga Gold Rum.
Each cake is made with the freshest ingredients such as whole eggs, butter, imported walnuts, and of course, the rum! Aged for five years in special oak barrels, the Tortuga Gold Rum acts as the icing on this Tortuga Rum Cake. Drizzled over the sweet, moist cake itself –this preserved rum adds a sweetly spicy glaze that not only has a full island flavor, but also has a sweet softness that melts in your mouth along with the moist coffeecake!
Since Tortuga Gold Rum is not available to the public, this is the only way to get access to it. Whether you're a sweets fanatic or a rum connoisseur, the delicious blend of flavors will make this dessert one of your all-time party favorites.
Packaged and delivered in a gold box, the Tortuga Gold Rum cake comes in three different sizes and a variety of different flavors.