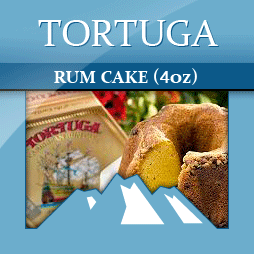 Take yourself on an indulgent tropical vacation with a slice of this 4 oz. Tortuga Rum Cake! Imported from the Cayman Island, this delicious cake is one of the most popular island treats available with its fresh ingredients such as whole eggs, butter, imported walnuts, and a generous drizzle of glaze made from the exceptionally popular Tortuga Gold Rum.
The Tortuga Gold Rum used in making these freshly baked cakes is a premium five-year oak barrel aged liquor that is not sold to the public. The only way to get a taste of this exclusive rum is to taste it on this sweet cake. So if you want to try one of the world's most beloved rums, it's time to eat cake! The hand-glazed drizzle on the Tortuga Rum Cake is rich, sweet, and slightly spicy – making this dessert a delicious treat.
In three different sizes and specific flavors available, the Tortuga Rum Cake is one of the most diverse sweets to top off a party with. If you are looking for something that will make your party guests feel like they are melting away on a beach somewhere, this moist and delicious coffeecake is the perfect get-away.
Delivered in an elegant gold box, the Tortuga Rum Cake is the ultimate in elegance and flavor.